ECRR Toolkit for Serving Early Childhood Educators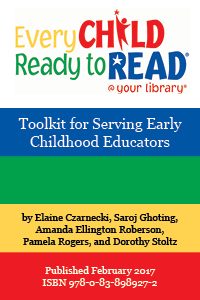 $99
Digital Download
This kit is primarily aimed at public library staff as a how-to manual to train early childhood educators, such as: licensed home child care providers, child care center staff, Head Start teachers, preschool teachers, and other child care professionals. The toolkit aims to offer a better understanding of what it means to partner, train, and facilitate learning with early childhood educators whose students are growing in independence and ability as they approach school entry. It includes a basic workshop with options for you to expand the workshop and/or to design additional workshops specific to the needs of your community. Topics include:
* early literacy;
* constrained and unconstrained skills;
* decoding and comprehension;
* critical dimensions of language and literacy;
* early literacy skills;
* early literacy practice; and
* early literacy during routines and/or activities.
Slides contained in the kit are customizable: edit wording in slides and notes page, add and delete slides, and insert your own photos. Kit includes PowerPoint presentations, instructions, planning worksheets, handouts, booklists, evaluation forms, resources lists, and more!